Tales of Berseria speelbaar tijdens TomoCon 2017!
Tales of Berseria is de nieuwste titel in de lange en succesvolle serie "Tales of".
Het nieuwe deel biedt gamers nieuwe uitdagingen terwijl het trouw blijft aan het karakter van de saga.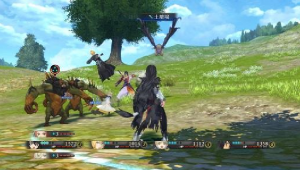 Mutsumi Inomata, Kosuke Fujishima, Daigo Okumura en Minoru Iwamoto die al heel lang samenwerken aan de serie, hebben hun talenten bij elkaar gevoegd om de personages en het scenario van dit deel te bedenken. De beroemde studio UFOTABLE, lid van de grote Tales of -familie sinds Tales of Xillia en verantwoordelijk voor de prachtige animaties in Tales of Zestiria – Dawn of the Shepherd, staat opnieuw aan het roer voor de animaties van Tales of Berseria. Het werk van deze grote namen uit de videogamewereld is ongetwijfeld de beste uitnodiging om de epische wereld van Berseria te gaan ontdekken.
Tales of Berseria verhaalt de geschiedenis van Velvet, de eerste solo-heldin uit de serie. Velvet laat zich leiden door haar gevoel en ontmoet op haar reis zij die zweren bij rede om opnieuw orde te scheppen en te handhaven in een wereld verteerd door interne conflicten.
Trailer: