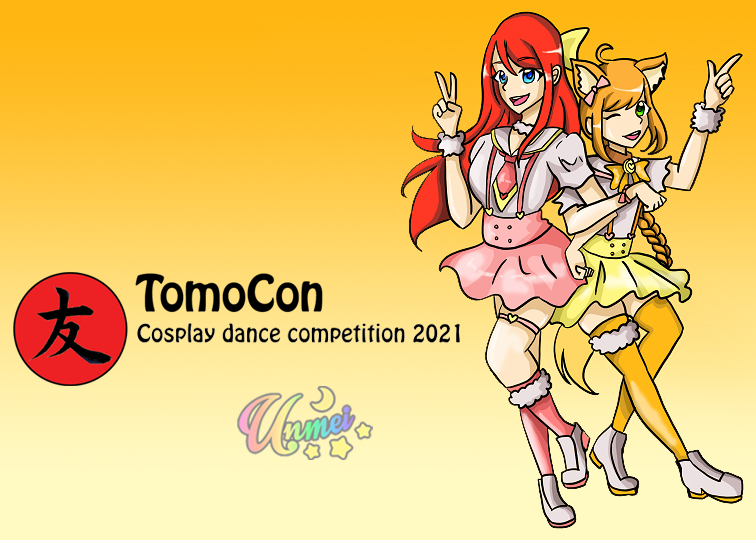 inschrijven: https://forms.gle/3xU7F2F82wWDaTEt6
Love Live, Idolm@ster, Pripara, Uta no Prince-sama. Slechts een kleine greep van het grote assortiment Idol-anime.
Dit genre is met de komst van Love Live zelfs zo populair geworden, dat je het nu op elke con wel terug ziet en er in Japan hele warenhuizen vol van liggen.
Vandaar dat tijdens Tomocon deze Idols een eigen plekje op het podium te geven door middel van een Cosplay Dance Competition!
Bij deze competitie draait het erom dat jij alleen of samen met je vrienden een zo goed mogelijke show opzet met dans en eventueel zang/playback. Hierbij moet je natuurlijk wel met een aantal dingen rekening houden:
Show your best dance skills to the judges and impress the audience with your wicked moves!
The Tomocon Dance Competition will be held Saturday 7 August from 12:00 until 14:00. You can sign up for the competition by going to the sign-up sheet with the link provided to you at the bottom of this page, below the rules.
Sign up: https://forms.gle/sqFRxACyA1Ksx23s9
Rules and General information:
-Music must be from Japanese or Korean origin, including but not limited to: K-pop, J-pop, Anime soundtracks, Game soundtracks.
-Cosplay is not required, but the outfit chosen must be appropriate.
-Dance Acts can be performed individually or in groups.
– It is not allowed for individuals to perform more than 2 dance acts. Only one act will be counting towards a prize
-Dance acts must be a minimum of 1.5 minutes (90 seconds) and a maximum of 3.5 minutes (210 seconds).
-It is not allowed for Dance acts to use props that may be dangerous or not easily-cleaned of stage. These items include but are not limited to: Fire, Fireworks, smoke, glitter, confetti, water. Props such as Microphones, Fans and Paper are allowed, provided the contestant cleans up.
-Remixes of multiple songs are allowed, but only 1 audio file will be played, so edit the sound file accordingly.
-Dances or Music with excessive crude language, cursing, inappropriate movement and nudity are not allowed and will be rejected.
-General TomoCon rules are still in effect.
-A quality check for the audio will be performed. We have the right to refuse an audio if it doesn't uphold technical or quality standards. You will be informed of this and given a chance to change it.
-Please note that signup forms can be changed, but google forms does not allow for the audio to be changed after uploading. If audio changes occur, please re-submit the form or inform us through other means.
-Deadline for submission is 1st August 23:59. We will not accept new changes to Audio or Visual Material after this, unless we specifically ask you to provide us with new files.
-Order of acts is decided by us and not open for discussion.
-Participants must be present at the stage a minimum of 15 minutes beforehand (11:45).
-All contact person will be added to a whatsapp groupchat. Upon submission you give us permission to do so. This will be to inform of any changes to the rules, and contact during the day of Competition.
Things our Judges will focus on:
-Energy
-Technical Skills
-Synchronicity
-Visually Appealing
-Overall Combined
Google Forms: